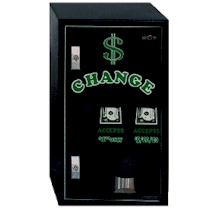 "HIGH SECURITY $1,$5,$10,$20 Front Load CHANGER DOUBLE HOPPER"
Item # AC2002
Our Price: $2,475.00
List Price: $2799
Description & Specifications
Bill changer dual hopper and dual validator this front load model is a high security model designed for the Car Wash and Laundry Industries. this model boasts dual hoppers for increased capacity & dual locks for increased security. it also has dual bill validators for peace of mind. each validator controls both hoppers for greater flexibility of use.
Weight: 75.00 pounds
Manufacturer: American Changer
Brands: American Changer
Part Type: Commercial
Customers who bought this item also bought: